What is Order Fulfillment?
Order fulfilment is defined as the process of receiving, picking and packing, and delivering orders to customers. This may sound simple, but order fulfillment is more than just customers receiving orders.
Ecommerce Order Fulfillment can significantly impact customer experience with the right partner in place.
With SnT, you can achieve exactly that.






Ecommerce Order Fulfillment Services
Here are the services we offer in our Order Fulfillment process.
This is perfect for B2B and eCommerce companies with many SKUs and high volume orders.
Last Mile Delivery Management
From tracking to door, we manage deliveries for you through our last mile partners.
No more customer complaints on wrong items sent, delay in deliveries, or damaged items.
Free up time so you can focus on growing sales, marketing, and forging partnerships.
No more headache on manpower
Scale up your business without worrying about hiring and managing manpower.

Our e-Commerce integration partners include
Shopee, Tiktok Shop, Lazada, Zalora, Shopify, Magento, WooCommerce.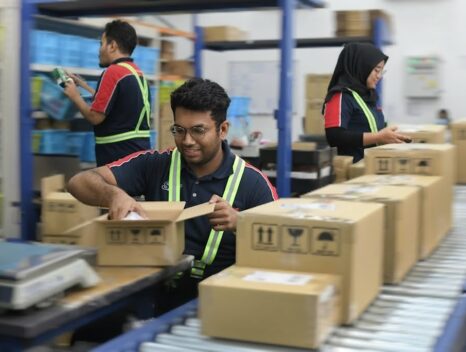 You decide how your customers receive orders
ACCESSIBILITY FROM ANYWHERE
Monitor your inventory and order statuses, all in a single dashboard at the comfort of your home.
Flexibility is key. We tailor processes and services according to your brand needs for strategic advantage.
DEDICATED ACCOUNT MANAGER
We play a role in your growth. We assign a dedicated expert as your logistics partner.
MULTI-LOCATION WAREHOUSES
Leverage on our warehouses nationwide to be closer to your customers. Enable 1-day, same day, or on-demand delivery.
Our relentless dedication to service levels gives you consistency in your operations so that you can scale with nothing holding you back.
"SnT has quick responses and is always on top of issues. The team is willing to work with brands to ensure success and agreed KPIs are met."
James Kok, Vinda Malaysia
Consumer Engagement Manager
"Fast shipping and good service. SnT staff are responsive and professional. They can cater to order customizations."
"SnT is a reliable, friendly, helpful and trustworthy business partner. We like their transportation services."
Lim Jen Sen, Allied Parcel Courier Services
"The team is a big plus to our organization. SnT is niche, strives to deliver based on SLA and provides great flexibility for the clients. Deliveries are prompt and SnT manages scheduling with the customers."
Patrick James, Sonno Malaysia
"SnT has a very helpful fulfilment team ready to listen to customers' needs and always finding ways to improve. I can grow my company without worrying and spending a lot of time on logistics and go online without major hiccups. SnT reduces fulfilment error rate from inbound, pick and pack, and outbound and syncs all our marketplace accounts to a single system."
Ng Shih Siang, C
aring Pharmacy
How we helped our customers