KLIA Aeropolis DFTZ Park on schedule, to be launched next June
Leverage agile frameworks to provide a robust synopsis for high level overviews. Iterative approaches to corporate strategy foster collaborative thinking to further the overall value proposition. Organically grow the holistic world view of disruptive innovation via workplace diversity and empowerment.
Thursday, August 1st, 2019 at Business | News @ The Malaysian Reserve
by SHAHEERA AZNAM SHAH/ pic by RAZAK GHAZALI
THE Kuala Lumpur International Airport (KLIA) Aeropolis Digital Free Trade Zone (DFTZ) Park is expected to commence operation in the third quarter of next year.
Cainiao KLIA Aeropolis Sdn Bhd CEO Johnson Chen (picture) said the project is 50% completed and on track to be launched in end-June 2020.
The operation is also expected to begin in September 2020.
"The KLIA Aeropolis DFTZ Park will be operational in September next year, as it will depend on the people to accept the technology and system.
"So far, it has been 50% completed and it is expected to be launched in end-June 2020 as scheduled," he said at the Alibaba Cloud Summit 2019 in Kuala Lumpur yesterday.
According to Chen, the project aims to ease the cross-border businesses of the small-and medium-sized entrepreneurs in exporting and importing products to or from China and other countries.
Depending on Malaysia's adoption of digital technologies, he expects the DFTZ Park to be fully operational by 2022.
"Within one or two years after its launch, we hope to achieve a full-scale capacity," he said.
In April last year, Malaysia Airports Holdings Bhd (MAHB) partnered Cainiao Smart Logistics Network (Hong Kong) Ltd to develop the DFTZ Park.
The project, which is part of the DFTZ initiative, is in partnership with Alibaba Group Holding Ltd to support the growth of KLIA's cargo volume to 1.5 million tonnes in 10 years.
MAHB will develop a 90-acre (36.42ha) piece of land at the DFTZ Park, of which 60 acres will be allocated for Cainiao KLIA Aeropolis to build a regional e-fulfilment hub, which is set to be the world's first e-World Trade Platform outside China.
Other infrastructure developments include a free commercial zone corridor, an airport cargo freight station to support intermodal connectivity to seaports and big data analytics for operational efficiency.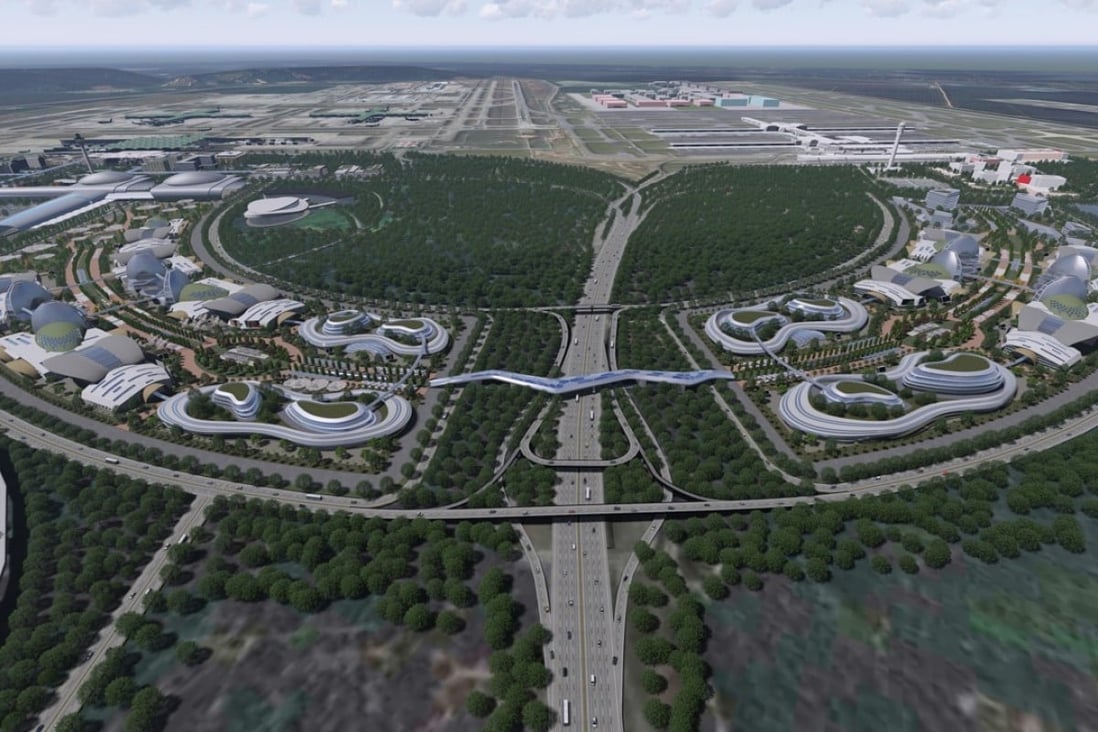 KLIA Aeropolis' air cargo and logistics development cluster is projected to generate RM1.6 billion in GDP and create 6,000 jobs in the next three years.
Malaysia currently hosts four regional e-fulfilment hubs operated by Pos Malaysia, which are SnT Global Logistics Sdn Bhd, YCH Logistics Sdn Bhd (for Zalora's regional distribution hub), FM Global Logistics Sdn Bhd and Xin Hwa Trading and Transport Sdn Bhd.
Launched in November 2017, the DFTZ Park is a collaboration between the government, SME Corp Malaysia, Malaysia External Trade Development Corp, Malaysia Digital Economy Corp and Alibaba to facilitate the development of an e-commerce platform for SMEs from China and Malaysia.