Finding the perfect ecommerce fulfillment partner for your business
As a growing successful ecommerce business, what troubles keep you up at night?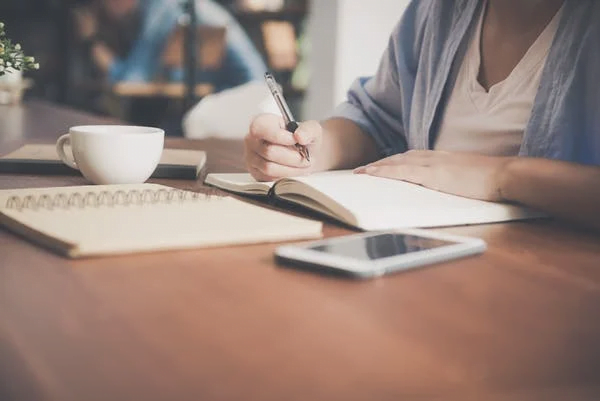 How can I scale my business with manpower issues?
Where can I rent warehouse space that won't break my budget?
Do I save money partnering with an ecommerce fulfillment center?
How do I select the perfect fulfillment partner?
How does a fulfillment partner contribute to my growth through tech-enabled facilities, customised ecommerce fulfillment solutions, and international expansion opportunities?
If you currently fulfill orders from your own home or warehouse but plan to transition into partnering with an ecommerce fulfillment center soon, there must be reasons why you wish to move away from self-fulfillment.
Based on thousands of discussions with our merchants, many have the idea that fulfilling orders from one's own warehouse is more cost-effective compared to partnering with an order fulfillment service provider. That could not be more misleading.
You just need to find the right fulfillment partner with unique fulfillment strategies to meet your business needs. Of course, not every 3PL will be able to cater to the tight demands of your brand so you will need to find one who has contributed to the growth of ecommerce brands facing the same problems as you.
Naturally, what comes next in your search journey is asking: "How do I find the right fulfillment service provider to help my brand grow?"
Like allies in a war, an order fulfillment partner unites their solutions to a brand's unique needs, equipping the brand with the necessary logistics tools, operations, service, and technology that will stretch its business capacity and augment its growth.
Like SnT, global fulfillment partners that have helped hundreds of merchants scale is a cost-effective strategy that gives you back your time, reduces fulfillment errors, enriches your customers' experience, and captures your brand in good light.
Those are attributes you want to look for in a fulfillment partner.
We've seen our clients' back office cramped up with boxes of unorganised products with no automated process or system to care for them. Order fulfillment should be among your last worries.
As a matter of fact, most of your competitors have moved beyond the "logistics issues" stage and are busy investing time and resources into business growth.
Choosing a 3PL is a long-term decision you have to make wisely. It is like entering into a marriage, a major decision that will make or break you- in this case, your business. You want a partner that cares for you and makes your fulfillment and customer issues their own.
Before looking 'out' for a fulfilment partner, look in
Finding the perfect fulfillment service provider takes time and ground work. Most businesses set out looking for a fulfillment partner with specific problems in mind, hungry for a single source of solution that can be found in one partner.
Like any other business decision, partnering with an ecommerce fulfillment provider is a long-term decision – not one to make hastily. Before searching for the right fulfillment partner for your growing business, take time to inspect the internal factors of your brand.
What products do you sell?
Do your products require special needs?
What problems fueled your desire to partner with a 3PL in the first place and what solutions are going to benefit you?
1) Different products call for different requirements
The nature of your products directly determines your handling requirements.
Are they small, breakable products? Big bulky products that occupy a lot of space?
Product handling is dependent on the mass, shape, fragility, and temperature requirements of your goods. Fragile items will require gentle care whereas bulky items will require less tender care but more storage space.
The benefits of fulfillment service providers are countless. Services of different 3PLs range from bulky item storage to liquid items to pharmaceutical products. Some 3PLs will not be able to accommodate perishable goods like food, while others will not own the right facilities to house bulky items – these are just some examples of how fulfillment service providers differ.
Look instead for a fulfillment service provider that can ease your struggles – not just in providing a safe haven to house your goods, but optimised processes, right facilities, and manpower to care for your brand. Within that group, the best 3PL is one that supports you throughout.
2) Make investing in a 3PL worth it
Over years in this industry, it's not uncommon for clients to ask,
"What is the cost involved in the entire product distribution and delivery process?"
The question to be asking is,
"What cost are you willing to pay when you have high fulfillment error rates, ship orders out late, and lose control of your inventory?" At that point, your customers and reputation become the ransom for that payment.
A helpful rule of thumb is to avoid looking for cheap fulfillment providers. In theory, that may look like the cost-effective option but speaking from a point of decades handling hundreds of brands, experienced fulfillment providers can provide you much value. Ultimately, these solutions will delight your customers, reduce running costs, and build trust.
If expanding your business is your top priority, abandon the idea of fulfilling orders alone. You want to scale up without hassles and logistical headaches and that can only be done with a fulfillment partner.
3) Are you scaling quickly or taking things slow
Here is a simple tip you should never forget. Your order fulfillment partner is either going to make or break your overall success as a brand.
Is your brand just starting to pick up speed? Is it quickly growing?
Are you a local seller selling regionally? Is your brand known nationwide?
Working in ecommerce means you are working in a fast-paced environment. As a business owner looking to scale, you'll be hiring manpower, dealing with constant changes, scraping for time to meet demands, developing company structures – these growth pangs will last for a while.
That just means you will have little time left to take care of customer orders. That is where a 3PL can take away your problems, so you have time to do everything else.
Contratriseise, you may not be scaling up or your existing operations are running smoothly. Then, you should maintain your fulfillment in-house.
Your company's vision, the nature of goods you offer, your willingness to invest in a fulfillment service provider, and the rate at which you wish to expand will guide you to the fulfillment partner that has the same vision for you.
If you want to go fast, go alone, if you want to go far, go together

African Proverb
Flourish with a fulfillment partner that make your goals their own
To feel confident you choose the right fulfillment service provider, ask yourself these questions.
Does this fulfillment partner have the experience to help you grow? For example, SnT brainstorms with and formulates growth strategies for our ambitious clients.
Does this ecommerce fulfillment partner have the technology, service, and scalable infrastructures to support a growing business?
Will they meet SLA standards?
A business's backend logistics is inextricably related to rapport and trust.
With heightened standards around shipping around the world, even leading brands like Amazon, Alibaba have provided lucrative faster shipping for customers. The order fulfillment process is more demanding now than ever, and without a fulfilment partner, these challenges can only grow.
To be seen as a pro by your customers with the most memorable customer experience, look for a fulfillment partner with these capabilities:
1) Well-rounded experience
Time-tested order fulfilment process

A time-tested system that can streamline orders from multiple sales channels into a single portal, allowing you to view and track your inventory from warehouse to your customer's doorstep

Storage capabilities

State-of-the-art facilities with ambient and non-ambient temperature

Tight security to minimise inventory shrinkage and profit loss

Custom unboxing experience
Customised packaging such as virtual bundling, GWP, kitting, insertions, and more
Scalability

In-house developed technology to help young brands and mature brands alike
Time is unable to replace an ecommerce fulfillment service provider's experience. Over decades of empowering businesses in order fulfillment, SnT has witnessed brands that worked with 3PLs that do not meet with SLA standards, fail. Switching from one partner to another isn't the best idea. It is far easier to set off on the right foot, make a good impression on your customers with a reliable fulfillment partner.
2) Technologically advanced
Working with a fulfilment partner should feel like fulfilling from your very own warehouse.
A good modern tech-powered 3PL provides:
Seamless integration with marketplaces 

Open APIs for custom integration

Integrated system that allows customers to sync and track their order status
Streamlined processes

Omnichannel capabilities 

Sync orders into one portal – for example, SnT has a Hosted E-Fulfillment platform (HEFP) with omnichannel capabilities
Full visibility

Visibility of supply chain to track orders from the comfort of your home

Sales-winning features

GWP

Pre-order
Virtual bundling

Online dashboard analytics
Real-time tracking

View real-time updates across all your sales channels 

Digitised warehouse management 

Provide historical data on demand for better sales forecasting to be ready for change
When we think of ecommerce, we think of the evolution of technology that has led us here. The stronger your ecommerce fulfillment partner's IT support, the easier order management and warehouse management becomes for you.
You want to relax and enjoy the systems your partner provides you. More importantly, look for a partner that listens to your feedback and makes an effort to enhance their systems for you.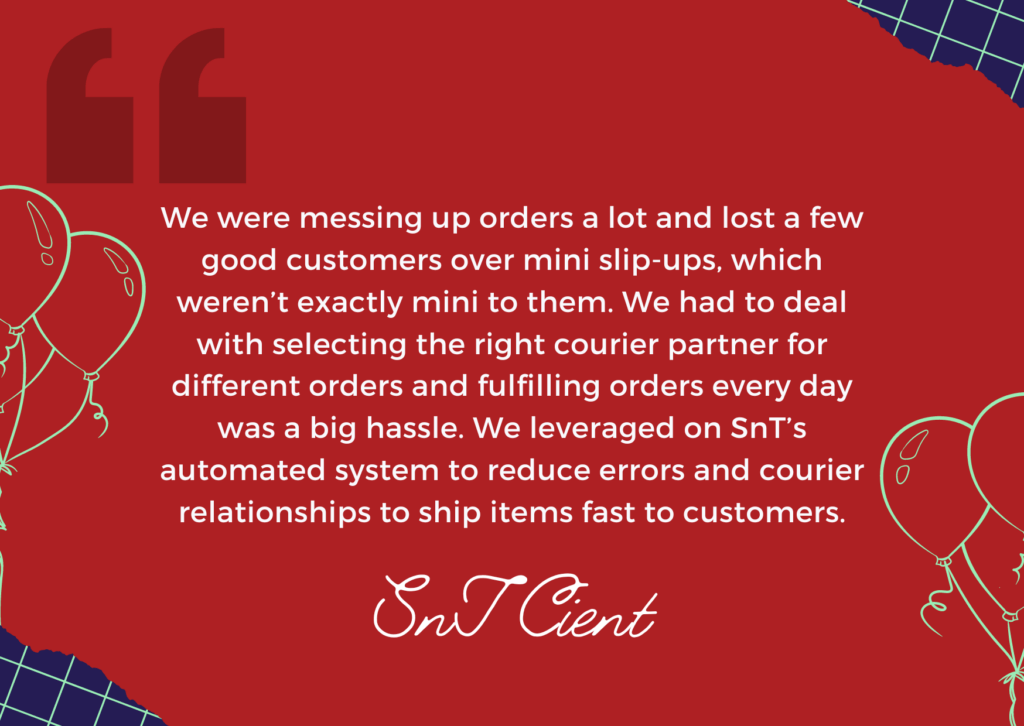 3) Strong customer support
Logistics is tiring.
A never-ending process. As much as you wish, there is no "off" button. If you want to scale your business, you can expect continuous streams of tedious processes, fulfillment frustrations, and customer complaints.
Which is best you find a partner who can accommodate urgent needs and cultivate positive experiences for your customers.
A good fulfillment partner with strong customer support should have these traits:
Aligns their goals to yours

You should be treated as a partner, not a customer. A partnership is a two-sided relationship that takes the interests of the other party into account

Dedicated account manager

An account manager to handle spontaneous requests and solve issues

Strengthens customer relationships

A responsive team to navigate the problems faced by you and your customers

Strong clientele portfolio

A partner familiar with the landscape of diverse industries like Retail, FMCG, Consumer Electronics, Fashion and Apparel, Skin Care, Cosmetics, and more

Post-purchase customer experience

Troubleshoots customer issues

Provides returns services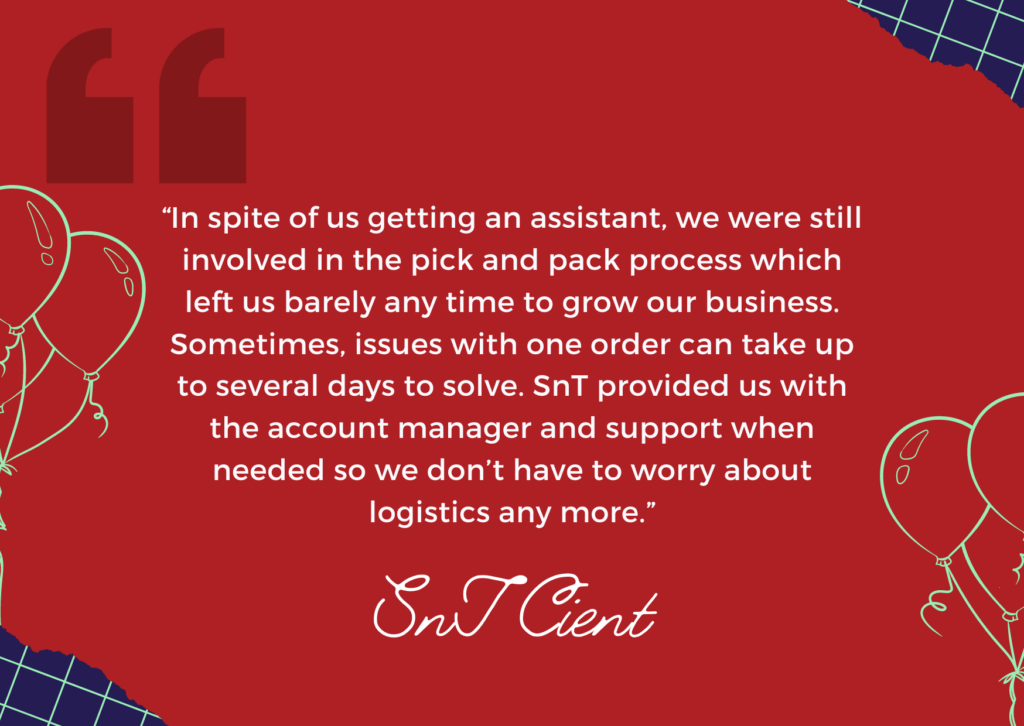 4) Scalable infrastructure for campaign periods
What else should you expect from a fulfillment partner?
Remember back to times you held campaigns or livestreams.
Maybe it was Shopee's 11.11 end-of-year sale when order volume spiked 10 times.
Did you have adequate manpower to speedily pick, pack, ship, and create a wonderful customer experience? Or did you deal with fulfillment headaches during a period of time that was designed to bring you profit?
The perfect fulfillment partner will eliminate these problems by:
Distributing your inventory across their locations – so they can offer fast, affordable shipping to your customers

Possessing the technology to monitor merchants' stock, omnichannel support, packing, and delivery
For example, at SnT, we study clients' data to distribute inventory closest to their end users to reduce shipping costs and create an extraordinary experience for your customers.
5) Strong KPI management
Lastly, as experienced as a fulfillment partner may be, with the right tools, technology, and infrastructure to invest in the success of ecommerce businesses, nothing is as significant as a partner that delivers on the promises they make.
Look for a fulfillment partner that can fulfill the following:
Meet SLA standards

Deliver on stringent service levels set in the partnership contract

Achieve near 100% order accuracy

As we know, customers are becoming less forgiving

Achieve near 100% on-time delivery

We constantly see reviews that revolve around fast shipping
Key takeaways
Good fulfillment services eventually pay off financially.
If you want to invest in an ecommerce fulfillment partner for your brand, research first then invest wisely.
At SnT, we hold a customer-centric approach that serves as a growth catalyst for our clients, especially young brands that want to foster positive buying experiences for customers.
We do not believe in a one-size-fit-all method and neither should you.
We listen to your needs to guide us to lead you to an informed, well-guided decision. But you will have to do the groundwork and figure out what's best for you.
If you are looking for a fulfillment partner that can overcome fulfillment challenges and provide solutions for you to scale, SnT has helped over 100 brands scale up with our customised omnichannel fulfilment solutions and would love to see how we can take your brand off the ground in no time.
Do what you do best, outsource the rest

Peter Drucker