5 Minutes To Know What Is Cross Border Management in Malaysia
What is cross border management in Malaysia? It is a common term to people that are involved in the logistics industry. It refers to the import/export of a product to/from another country via air freight, sea freight or by truck / train (as West Malaysia has road connection to Thailand and Singapore). Cross border management in Malaysia is getting popular due to the eCommerce boom which has led to a surge in cross border eCommerce activities in recent years. Nowadays Malaysians are getting used to purchasing products via online channels, especially during the pandemic in 2020. This has increasingly boosted the demand for cross border fulfillment required in Malaysia.
Partnership With BOXME To Strengthen Our Regional Network
In 2017, BOXME, the now Southeast Asia's premier e-commerce fulfillment provider began to serve overseas markets with their expertise and they sought to cooperate with other prominent warehousing & fulfillment service providers in the region which includes SnT Global. Our partnership with BOXME provides regional access to the South East Asian network, which allows us to provide cross border management services to our clients. Currently we have regional presence in Vietnam, Thailand, China, Philippines and Indonesia.
Industrial Fact: Forecast on The Global Cross Border Ecommerce Market Growth
According to eShop World report (2020), the global cross border eCommerce market is predicted to inflate up to US$736 billion globally. The high number of 4 billion people with access to the internet could be leveraged for eCommerce to boom. Equipped with advanced technology infrastructure in the midst of the COVID-19 which hinders consumers from visiting physical stores, they opt to purchase products from online shops. Plus, online shops offer a better and easier experience for consumers to compare prices as well as being the most cost-effective way to shop.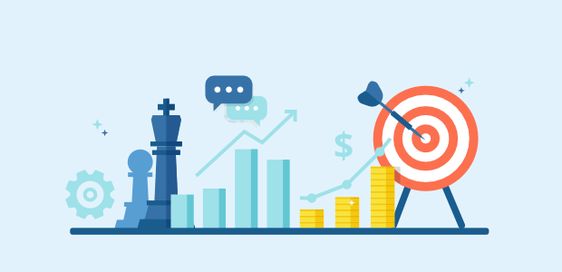 According to a research study conducted by Commerce.Asia (2020), Malaysia has had a rapid growth of gross ecommerce merchandise volume by 149% year-on-year in the 1stquarter of 2020 since the enforcement of Movement Control Order (MCO). The study shows us the involvement of cross-border eCommerce in the rising volume of direct purchases from China by Malaysians when they shopped via Taobao, or local platforms such as Lazada, and Shopee. Not to mention, since the enforcement of MCO, many Malaysians lost their job due to closing shops, travelling companies. This caused a lot of these Malaysian to participate in the cross-border eCommerce by listing products sourced from China, on Amazon, Ebay, Wish & many more Europe eCommerce platforms as an alternative way to make a living.
How Cross Border Fulfillment is Done in Malaysia
Cross-border fulfillment of a product is crucial in order to make online shopping possible. Online shopping platforms like Taobao, Amazon, Ebay etc cannot happen without a "bridge" that will connect all borders. Yes, the "bridge" is cross-border fulfillment. We can categorize the delivery of the eCommerce product to the customer into 2 general categories which are cross-border shipping and local distribution.
All cross-border shipments are time consuming and the incurred cost includes transportation, duty tax, insurance, etc. before its last mile delivery to meet customers' fulfillment. Merchants can decide the transportation of the cross-border shipping for their products whether it will be fulfilled by air freight, sea freight or by road/rail shipment. In common practice where the products are bulky and stored in a warehouse or distribution centre– which in most cases, there is little to no access for these items to be shipped out by road/rail-, the merchants will choose sea freight as the method of fulfillment as it is the cheaper option compared to air freight though slower.
Cross-border shipping refers to the shipment of products that are stored in another country, where going through the specific customs is made mandatory before they arrive at their final destination. This process is yet involved by any local distributor nor retailers as the shipment is still between the sellers & customs from different countries.
While the cross-border shipment takes a longer time to be delivered to the consumers compared to the local distribution model, it is cost-effective and the best choice if you are new to the market.
Here are the features of cross-border shipping:
i. No import taxes for any shipment below RM 500.
ii. You face simpler customs procedures, less hassles and less paperwork to be dealt with in a single shipment.
iii. Shipping costs are only required to be paid when a sale in Malaysia is made that guarantees revenue. So, no upfront investment.
iv. Shipment and customs clearance will be handled by the logistics courier which will not take longer than a few days and your shipment will arrive at the destination safely as well as quickly.
The following diagrams explain the processes of the cross-border shipping model and the local distribution model.
Cross Border Shipping:-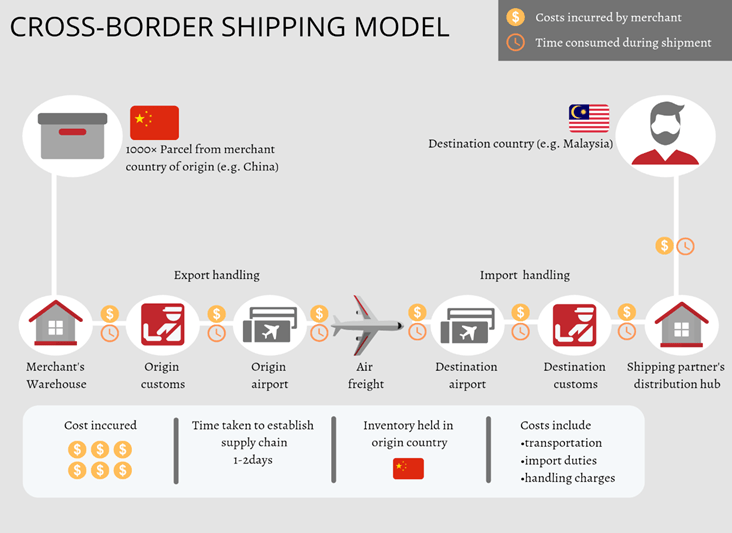 Local Distribution Model:-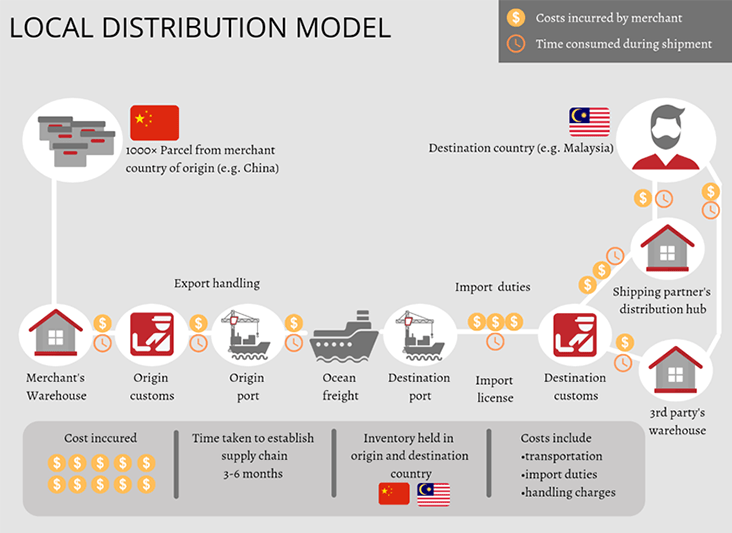 References:-