Signs of a Great Ecommerce Fulfillment Service Provider
In this high demand, fast-paced industry of eCommerce business, eCommerce fulfillment providers are expected to customize their services in order to provide the best form of efulfillment services to customers. Nowadays, logistics companies provide one-stop eCommerce fulfillment services.
Ecommerce fulfillment service providers should have knowledge on handling products and securing stocks with proper equipment in their facilities. They should have systems set up such as barcode systems to track products, where they're stored, when they ship out, and whether the products will be transported and more. In other words, they are the experts you want to work with in handling your eCommerce fulfillment needs that determine your success.
How Does a Fulfillment Service Provider Work?
Merchants pay for storage space and facilities based on the products' conditions and needs. For example, fragile products and need special care. Ecommerce logistic providers respond with modern technology to compute storage needs, arrange goods to be stored, sent and taken by other merchants efficiently.
Merchants drop off their goods in bulk at the warehouse. Fulfillment providers package the goods as per product requirements. This depends on the product's size, weight, whether they are in liquid form, fragile and so on.
Lastly, eCommerce fulfillment providers ship the parcels to customers. Merchants can choose from various courier options. Fulfillment providers ensure products are packed on time and picked up by designated courier services for delivery. If a merchant ships overseas cross border, custom documents are prepared to declare the contents of the products.
Signs of a Great Fulfillment Service Provider
As a merchant, you need to evaluate your eCommerce goals. Below are some criteria on deciding your eCommerce fulfillment service provider.
1. Centrality of Locations
Where are your fulfillment service provider's warehouses located?
Warehouse locations determine shipping costs and delivery lead times. Fulfillment warehouses located near major highways and air and sea terminals with a high flexibility multimodal are merchants' preferred choice. As you may know, fast shipping is strongly associates with customer satisfaction. Simply put, the closer your fulfillment provider's warehouses are to your customers, the better.
2. Cutting-Edge eFulfillment Technology
Does your fulfillment service provider implement cutting-edge technology in their warehouse operating systems?
The nature of this business is ever-changing and continue to evolve over time. A tech-empowered operating warehouse can easily adapt to changing needs in this business industry. Additionally, good high-tech warehouse centers offer merchants premium support with 24-hour security, CCTV, alarm systems, security canines and security personnel.
3. Flexibility and Customisation
Is your fulfillment service provider familiar with handling different types of goods?
An eCommerce fulfillment partner's flexibility determines their ability to handle your goods whether they are garments, ambient or non-ambient, electronic equipment and more.
The fulfilment center should also provide flexible service options that fit your brand strategy. For example, you may choose from multiple service levels depending on cost consideration, or low cost returns management for greater customer experience.
4. Expertise and Track Record
SnT has a running track record of 17+ years serving brand owners to MNCs.
Order accuracy, real-time order statuses, order tracking are critical determinants of good inventory management. It shows shows the importance of fulfillment centers having a track record. An effective fulfillment partner has real-time software and systems in place to make sure no product is left untracked throughout the fulfillment process.
How SnT's Experience and Technology Application Help?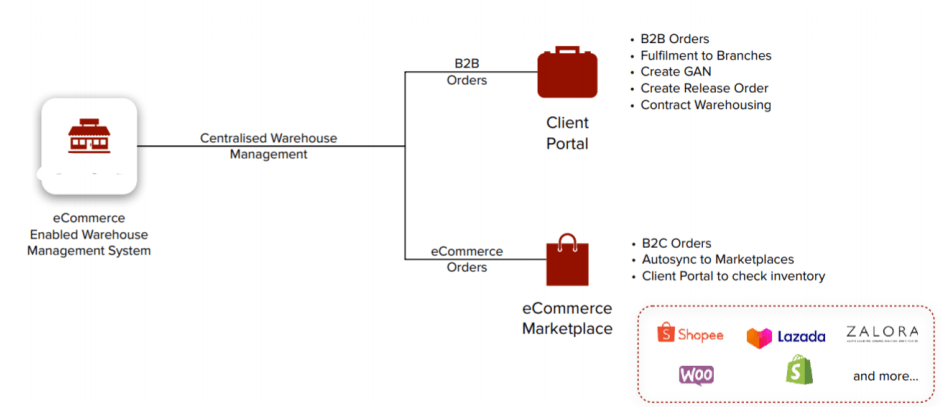 From an experiential perspective, SnT is one of the first Malaysian logistics firms to provide eCommerce services. Our contribution to the field was recognised in a 2017 government grant award from MIDA that encourages eCommerce development in Malaysia. We were also the first recipient of the Malaysian Investment Development Authority (MIDA) e-fulfillment grant. Check out our other awards & recognition here.
The systems that run our warehouse and logistical operations are technologically advanced. Our in-house system "SnT eFulfillment Platform" (eFP) was completed by CEO David Wong for other logistics providers even before SnT was founded. SnTeFP is statistically and performance-proven with stellar track record. It encompasses a number of systems employed in daily operations such as:
Electronic Warehouse Management System (eHUB)
Supply Chain Visibility System (eTrax)
Analytics – Dashboard Display (eDash)
Trade Compliance & Custom Documentation System (eTC)
Customer Relationship and Service System (eCare)
eCommerce Channel Integrations
*SnT's robotics and automated systems are currently under development to stay in line with market demand and streamline operations.
References:-
Keep up with us on social media: