A warehouse plays a very important role in the supply chain business. Traditionally, it was used for storage but over the years it has transformed from only storing products for profits into fulfilling multiple roles in the overall supply chain. Here in the article, you will be able to understand better about warehousing and fulfillment companies, and the purposes they aim to achieve. This article will also help those business owners who hope to obtain more knowledge on what and why you need these warehousing and fulfillment companies for their e-commerce business to boom.
What is Warehouse and Fulfillment?
A warehouse is a building where your goods are being stored for a certain period of time until the goods are taken out when they are needed. Contained and packed with high shelves with many stacked products placed on top of them as well as forklift driving around the building to locate a new item and vice versa.
Usually, these companies with warehousing services prioritize businesses that work with wholesale, or B2B (business to business) order deals of large quantities of goods.
As online spending is spiking in recent years, the importance of an efficient warehouse increases to satisfy customers' demands. According to a study, online spending will increase by 23% from one year to the next which is why warehouse size has increased 143% to an average of 184,693 square feet since 2007. (Brightpearl, 2019)
If you're a small business owner and don't want to spend a lot of money to rent a warehouse for storage and hire more people, you must consider outsourcing for fulfillment.
Thinking To Outsource? Let Us Help
A good warehouse for eCommerce must have the following criteria:
1. Location
One of the most important things to consider before choosing a warehouse is the location because this will determine the cost-effectiveness and the timely deliveries of products to your customers' locations. Don't forget to check how much will the transportation cost from your potentially chosen warehouse to the most regular final destinations for your customer's orders.
2. Efficient Workflow & Skilled Workers
Can manage an error-free inventory, process all the orders (B2B & B2C, for example) seamlessly. Workers with a solid workforce will be able to handle your products carefully and professionally. Maximizing the efficiency of the workflows and process with existing resources, assets and manpower.
3. Accessibility
Access and manage the warehouse operation any time, anywhere with a few clicks from the tips of fingers on all electronic devices especially mobile phones. This will prevent an unwanted incident such as delayed orders because the products cannot leave the warehouse.
4. Security & Technology
Complete control and secure end-to-end logistics operations. A warehouse that implements advanced technology to their system will provide better security and provisions for your products. This will also ensure smooth operations in the warehouse.
Now, let's talk about fulfillment. Similar to warehouse, fulfillment offers to store goods in bulk but within a short period of time. Moreover, what makes fulfillment special is that it's serving external customers like us. It's also known as a third-party logistic provider (3PL). Below are detailed functions of a fulfillment service.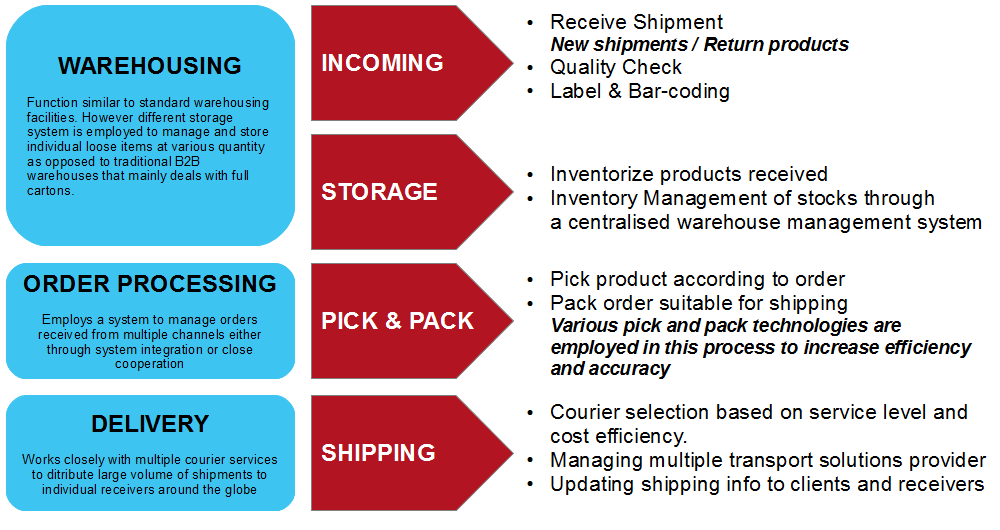 To simplify, fulfillment is perfect for businesses which lack the time or capacity to store goods, pack, and ship customers' orders. (Courter, 2018)
Location Is The Key To Satisfying Fulfillment
SnT Global Logistics has a network of 8 warehouses across Malaysia & Singapore. Moreover, our partners' regional networks that cover South East Asia and Hong Kong will, without a doubt, satisfy our clients' needs in the matter of productivity and efficiency.
Also, our integration with various marketplaces such as Shopee, Lazada, Zalora, Shopify and Magento and many more has contributed to our success as an omnichannel fulfillment service provider.
For our strategic location, refer to the following:
References:-
Keep up with us on social media: