4 Types of Storage Space For Rent In Malaysia
There are 4 types of storage space for rent in Malaysia that one should know, especially for the eCommerce businesses. Equipped with a better understanding and knowledge about the potential storage spaces in Malaysia for rent, you will have an effective and easier control of saving the expenses by allocating sticks and company resources. There are pros and cons for each storage type which could directly impact company expenses on product preservation, storing and distribution.
Easy Accessibility Storage Space for Rent In Malaysia – Listing
SnT Global Logistics primarily operates under give well organized and modern warehouse locations as below: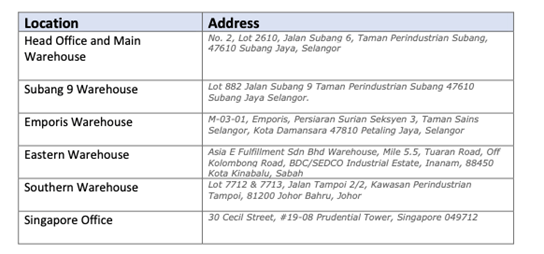 Our warehouses are located close proximity to the population and commercial zones, which offers our clients multiple benefits such as:
Transportation cost & time
Centralized efficiency
Economies of scale
Accessibility Improvement
Well-developed infrastructure
All of our warehouses and distribution centers come fully equipped with 24 hour security personnel, security canines, CCTV and alarm system. Besides, SnT Global implement all our state-of-the-art eFulfillment across all our warehouses. The system incorporates space-saving ideas, labour reduction innovations that is designed specifically for various requirements and expectations of retailers.
Contact us for warehousing service
Why Storage Space or Warehouse Is Needed?
The high demand on the local market may force merchants to set up local distribution networks, which naturally would require a storage space or a warehouse. This also applies to retailers who keep the stocks in their own warehouse. Nowadays, these local distribution networks can be outsourced with crowdsourcing methods. Although, not many merchants will set up their own local distribution networks as it comes with hefty upfront investment for space, technology and staff cost.
Due to the increasing demand for logistic fulfillment, many logistic companies provide warehouse or storage space for rent together with the management system to monitor the stock. The storage is also a place to keep the product safe and secure, tracking the inventory of the merchants and its movement.
The Advantages of Renting Warehouse Spaces
Outsourcing warehouse functions may be driven by the intention and plan to align resources with the core competencies of one's business. Should the business owner be distraught by indecision whether to rent a warehouse space or not, below are a few advantages that may push them to finally begin the search for warehouse space for rent.
1. Frees Up Space
Outsourcing warehouse functions to an appropriate type of warehouse can help companies who need extra space in their main headquarters. This rental warehouse space allows businesses to expand without having to invest in a new building, saving money on property taxes, insurance, equipment, and other expenses.
2. More Access to Resources of Value
Business owners will gain access to third-party logistics (3PL) providers' modern equipment and technology which will benefit their business when they rent a warehouse space in a public warehouse. With SnT Global Logistics, a smart warehouse management system, inventory tracking and management, a highly automated order fulfillment process, a configurable racking system, and a lot more are included.
3. A way to Expand Market Reach at a Lower Cost
Business expansion carries a slew of additional expenditures that can quickly deplete available funds. Businesses, on the other hand, might enter new markets or grow globally by leasing a warehouse space rather than investing in a new facility space.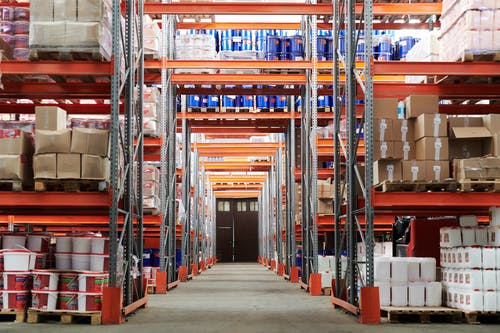 As there are more and more stocks to be kept for eCommerce products, it becomes crucial to have different types of warehouses to distinct its functions for different types of eCommerce business. Below is the common type of warehouse:
Type 1: Private Warehouse
Commonly can be seen 10 years ago, and run by private investors, distributors, manufacturers or larger retailers who rent space exclusively for their own distribution activities. For instance, warehouses constructed by manufacturers to store their product, or retailers who kept their stock that close to their physical store.
Maintaining a private warehouse is costly as it involves fixed cost and variable costs. Fixed costs are the capital involved for the land such as rental, labor cost, insurance and taxes. Variable costs are maintenance costs and operating costs.
Therefore, retailers and manufacturers have turned to public warehouses instead of owning a private warehouse of their own.
Type 2: Public Warehouse
Compared to the private warehouse, this type of warehouse only charges monthly rental payment and it is run by the local government or government linked companies. These warehouses are very affordable and it is a method for the local government to promote local trade and industry.
Type 3: Bonded Warehouse
A warehouse authorized by customs for importers to store their imported products, it is duty-free until they have been purchased. The importers only pay the duty tax once the products have been purchased and moved out from the bonded warehouse.
Type 4: Distribution Center
A warehouse that offers maximum efficiency and value-added services such as order fulfillment, packaging material or kitting services other than to store products for relatively short periods. Generally, a warehouse is needed and used to store products, while a distribution center aims to meet the customers' requirements. Due to the high demand of cross-border eCommerce, many distribution centers have adopted smart technology to streamline the eCommerce warehouse process and automation for ecommerce packaging, shipping and storing.
Find us on Google:
References:-